Bluetooth IR Mobile Mini Thermal Printer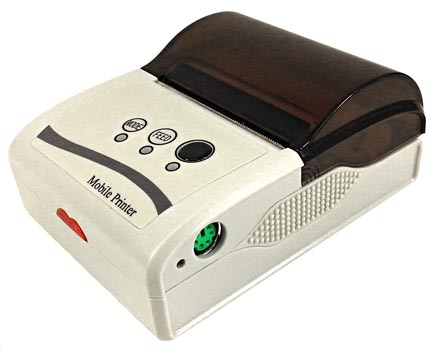 Slightly bigger than a business card, this handy little Bluetooth Mobile Thermal Printer can be easily carried around to where you work, just pair it with your Android based smart phone or tablets, and print receipt or other types of documents as wide as 48mm. It is light, ultra compact, and can last up to a hundred meter long of printing in one single charge. With a RS-232 serial cable it can be connected to computer for calibration. This is a great mobile printer for Solution Providers and VAR alike, and highly customized software can be designed for each individual customer.
Printing Specifications:
● Compatible OS: Android or PC (customers will need to program their own printing software under Android OS, a PC is needed for printer calibration)
● Print Method: thermal line printing
● Paper Width: 58mm
● Print Width: 48mm
● Resolution: 8 dots/mm (203dpi), 384 dots/line
● Print Speed: 50mm/sec.
● Paper Thickness: 60~80μm
● Character: Alphanumeric characters, extended graphics, international characters, EAN13, EAN8 bar codes.

Physical Specifications:
● Outer Dimension: 77×102×44mm (3.03"W x 4"D x1.73"H)
● Weight: 275g (including paper roll and battery)
● Paper Roll Diameter: ≤40mm
● Interface: Bluetooth and RS-232 Serial (1200bps~115200bps)
Other Features:
● Paper Loading: drop-in easy loading
● Black Mark Localization: available
● Paper Out Detection: when paper is out, the Mode indicator blinks, and the buzzer rings twice.
● Print Commands: ESC/POS compatible command set
● Power Supply: 1500mAh rechargeable polymer lithium battery
● Low Power Alert: when battery is low, power indicator blinks in red light and the buzzer rings 3 times; if the printer is in sleeping mode, the printer will cut off power after the buzzer rings 3 times
● Sleep Mode: the printer will go into Sleep Mode after at least 2 seconds without usage, and can be awaken by pressing FEED button or sending data to it
● Battery Charge time: approximately 3 hours.
● Battery Duration: under 25% print density, about 100 meters, and standby time is approximately 15 days.
Package Contents:
● Bluetooth Mobile Thermal Printer
● Rechargeable Battery
● Power Adapter
● Paper Roll
● RS-232 Serial Cable
● Carrying case with belt clip
---
Rechargeable Portable Bluetooth Speaker